Now Over 15 Years Old, 2nd Best Blue Route in the USA!


NY Route 28: Central Adirondack Trail




NYRoute28.com: CentralAdirondackTrail.com


The East-West Site of NYRoutes.com from February, 2003
From the Adirondack Northway, I-87 to the New York State Thruway, I-90
---
Blue Mountain Lake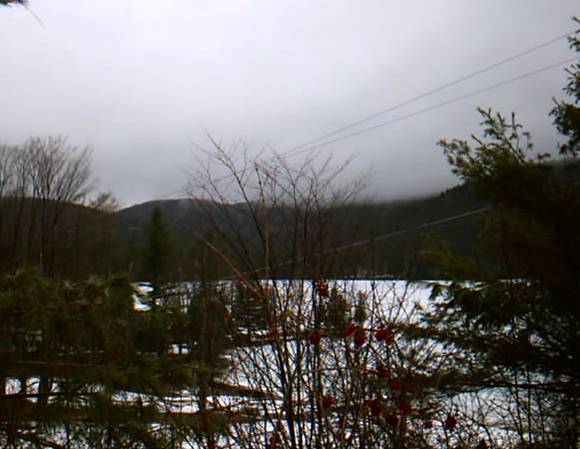 Blue Mountain Lake from Upper Edison Drive
Blue Mountain Lake is halfway between Indian and Raquette Lakes on NY 28, in the heart of remote and beautiful Hamilton County. Technically, it's in the Town of Indian Lake. It is a pretty resort area on a lake but offers little for the traveler except for a lone general store at the main junction. You approach Blue Mountain Lake from the east from Indian Lake on NY Routes 28 & 30. Along the way you cross a lot of state hiking and snowmobiling trails, including the Northville - Lake Placid Trail where it meets our NY 28 just once. A hiker, crossing the routes at this point, should head south-east, towards Indian Lake if she/he needs any food or supplies. When you reach the junction from the south, NY 28 South(west) stops and turns left and NY 30 North turns right towards Long Lake. The route on each side of the hamlet is pretty good, but west of the hamlet their are some easy bends and small hills. The Adirondack Museum, devoted to the 'Daks history is on NY 30 just north and uphill from the junction. You climb a tall hill with a passing grade on NY 30 & 28N. Also at the junction, you can pick up the western end of NY Route 28: Central Adirondack Trail:N, the Roosevelt - Marcy Trail, which follows NY 30 North to Long Lake. Then NY 28N goes east then south back to our NY 28 in North Creek near Gore Mountain Ski Area.
Just before, or east, of the hamlet's 40 mph speed zone is Lake Durant and a big parking and picnic area. The old very fashionable Prospect Hotel, once in the center of the hamlet, was wired for electricity by Thomas Edison, a frequent guest. This was the first hotel in the world wired for electricity. Now all that is left is the road named after it. In the old days, there was a railroad spur line off of the Adirondack RR that brought the rich and the intrepid to this remote settlement, before the days of auto, state roads and easy travel. That line began in Old Forge and went through Eagle Bay, It is now a snowmobile trail, just north and parallel to NY 28 around 4th Lake.
East of Blue Mountain Lake, NY 28 & 30 is a very good, wide, straight road and the snow clearance is great. West of Blue Mountain Lake, NY 28 is much narrower and curvier and the snow clearance is pretty poor compared to the other main routes in the 'Daks.
Blue Mountain from NY 28N & 30 North looking South
Indian Lake Chamber of Commerce
Participating Establishments
Hamilton County, Zip 12812
518 Area Code

---

Gadway Realty Aaron Gadway, Licensed Broker
16 W. Main St., POB 682, NY 28 & 30
Indian Lake, 12842
"Serving the Central Adirondack Region"
Phone: 518-648-0888 | 800-963-3752 | Fax: 518-648-0889